Highly Rated Houston Chiropractor
Dr. Sean Beukelman & The Peak Potential Team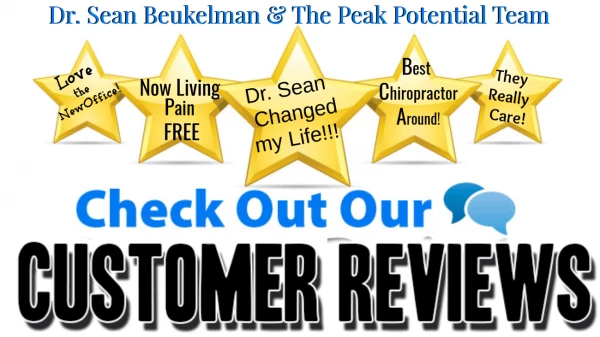 Hugo Aguiluz  



Excellent treatment in just a few therapies my back is much better.
Sharon Kraft  



Dr. Sean is the best chiropractor I have ever been to and believe me I have been to a lot of them! We are new to the area and were blessed to have found his office.
Zandrea Ide  



Dr. B is an amazing doctor! He is really honest and truly cares and it shows in his treatments. The new clinic is so much closer to me and super clean, the staff is always friendly too!
spelio69 Speli0  



Dr. Sean is very patient with me. When I came to see him he was so understanding and concern. Dr. Sean makes me feel right at home like if we known each other for ever. Thank you Dr. Sean for everything you are doing to help me get better.
Sohail Chatur  



Dr. Sean is a wonderful man! My Aunt lives in Houston and was having a ton of problems with her back. I asked around and got referred to Peak Potential. She's much happier now, what more can I say? Thanks Dr. Sean!
Terry Watts  



Nice office and friendly staff! Highly recommend!
Paige Ward  



Dr. Sean is amazing!! He takes the time to tell you exactly what's going on in understandable terms and truly cares. If you want to really get better and not just have temporary relief see this guy!! Absolutely worth it!!!
Shauna Martin  



Dr. Sean really takes care of his patients…my nerve pain has always bothered me and after getting adjusted I finally felt some sense of normalcy. Staring a new treatment can be scary but Dr. Sean was great I highly recommend
Michael Kittinger  



He really helped my lower back and got me back to peak performance. Highly recommend.
Joseph Dennis  



Nice office and friendly staff!
Jay Young  



Great doctor, very knowledgeable!
Thomas Protze  



Dr. Sean is awesome, I had him give me an adjustment when I was visiting the area and he did a great job at helping my back pain.
Zach Behnke  



Dr Sean adjustments regularly and has made huge improvements in back. I'm a chiropractor and he is who I handpick to use.
Featured Services
What Can We Help You With?
We set aside special time for New Patients and will do our best to schedule you in our first available appointment. Schedule your appointment today!